Den hemmelige krig -Danish government = Nazi Bilderberg SCUM
Uploaded for pacman.pt.vu
Torrent:
http://torrentz.eu/4842d3494b9660f78a89 ... 39c270853b
OR:
https://torrentz-proxy.com/4842d3494b96 ... 39c270853b
Direkte link:
http://pacsteam.org/Shareware/movies/De ... e.Krig.avi
"den hemmelige krig" fra DR2. Så kan folk selv se hvordan vores skatte kroner og soldaters liv går til terror, ulovlige krige, hemmelige henrettelser, tortur af værste skuffe og i det hele taget til et helvedssystem som DU har hjulpet med at sætte på benene, fordi du er en svag sofakristen med et barnligt sind der hele tiden fornægter virkeligheden for at kunne lege videre. MEN HELDIGVIS ER LEGEN MEGET SNART SLUT FOR DIG OGSÅ !!!
VIGTIGT: Nu varer det ikke længe før folk som mig med min uddannelse kommer til din dør for at voldtage dine børn, klippe tær og fingre af dem inden de får knust deres kønsorganer med tænger og dræbt ved at få hældt syre ud over dem.
DETTE HER OG MEGET VÆRRE TING ER ALLEREDE NU IKKE BARE LOVLIGT, DET ER OGSÅ SOLDATERS PLIGT og folk som mig VIL blive skudt hvis jeg ikke udfører ordre!!
DU er sindsyg og fortjener at miste alt hvad du ejer og har hvis du ikke tager Danmarks accept og deltagelse i "Enhanced interrogation techniques" alvorligt LIGE NU og kæmper for rettigheder over HELE verden, og kæmper imod at folk som mig skal tvinges til at torturere andre !!! Hvis DU ikke siger fra LIGE NU, vil jeg håbe at DIN familie bliver den første til at blive taget midt om natten og fløjet med sorte hætter over hovedet til Guantanamo eller et af de TUSINDVIS af andre "black sites" hvor disse og meget værre ting foregår. DU FORTJENER HVAD DER KOMMER TIL DIG !!!
http://www.youtube.com/watch?v=bO2p0KHyzpw
HVIS DU IKKE ØNSKER DETTE HER VÆK, SÅ FORTJENER DU HVAD DER KOMMER TIL DIG -MEGET snart!!!
---
Film: Den hemmelige krig (2006) (TV)
Director: Christoffer Guldbrandsen
Plot: Controversal documentary focusing on events in Afghanistan in 2002 in which Danish soldiers handed over...
Release Date: 6 December 2006 (Denmark)
Run Time: 58 min
Genre: Documentary
Cast: (Credited cast) ,Frank Lissner - Himself - Chief of Jægerkorpset, rest of cast listed alphabetically:, søren Gade - Himself,
"Den hemmelige krig" er en dokumentarfilm om udsendelsen af danske specialstyrker til Afghanistan i 2002. Filmen undersøger samtidig det politiske incitament og det juridiske grundlag for deltagelse i krigen i Afghanistan og hvilke implikationer det måtte medføre.
Christoffer Guldbrandsen opsøger personligt de danske soldater og den danske regering for at finde ud af, hvad der virkelig er sket og, hvad der er
blevet holdt hemmeligt for Folketinget og den øvrige danske offentlighed.
"Den hemmelige krig" er filmen om konsekvenserne af den nye danske udenrigspolitik og engagement med den amerikanske regering efter terrorangrebet på World Trade Center i 2001.
Læs mere på DR2' site
http://www.dr.dk/DR2/Hemmelig/
Kilde: dr.dk tv > wmv > xvid + mp3
http://www.imdb.com/title/tt1038968/
---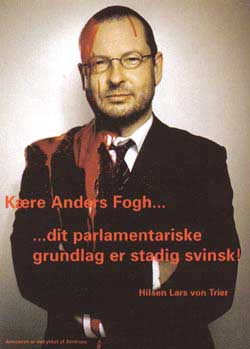 ---